We Have Roots Where Others Have Branches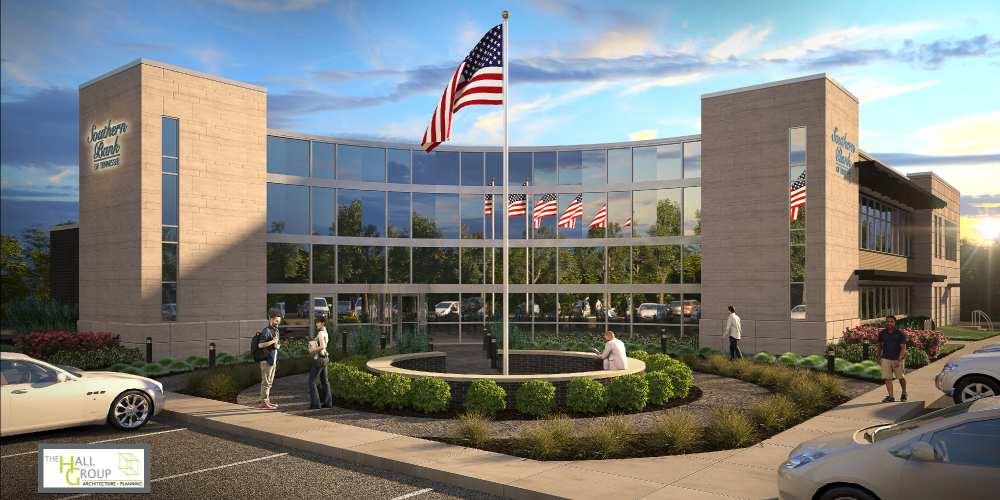 Here at Southern Bank of Tennessee, we're excited to share with you the renderings of our new Main Office building, which will be built at the corner of NW Rutland Rd., and N. Mt. Juliet Rd. A ground breaking ceremony was held recently and we're expecting construction to bar completed by Fall 2018. Local financial advisory firm Edwards Porter Mattes Wealth Management also anticipates a move into the new building, rounding out a full complement of financial services, all available in one location. As the only local community bank headquartered in Mt. Juliet, we firmly believe the city is full of potential, and it's our hope this building will showcase the bright future we have as a community.
The project was designed by The Hall Group, LLC Architecture + Planning based in Lebanon, TN. The site will feature a landscaped public plaza at the setting of the former farmhouse in honor of the site's history. Guests will enter the building through Mt. Juliet's first revolving door entry. Once inside, customers will be welcomed by a host of amenities such as the two story customer lobby and lounge filled with northern lights offering a coffee bar, wifi and charging stations. The balance of the lower floor if filled with glass front offices, biometric accessed lock boxes, conference rooms, training areas, mortgage services, loan officers, executive suite and support spaces. On the second floor, accessed by both a grand stair and elevator, one can discover the relaxing outdoor roof garden, board room, break room, investments, insurance, finance and loan departments.
Sustainable features include LED solar sensing lighting, ultra-low flow plumbing fixtures, recycle stations and materials usage, low VOC and locally sourced materials, hi efficiency elevator, revolving entry door, roof garden, daylighting and views, electrical tinting argon filled glazing, highly reflective roofing, bicycle storage and locker room, city-multi HVAC design and more.
---